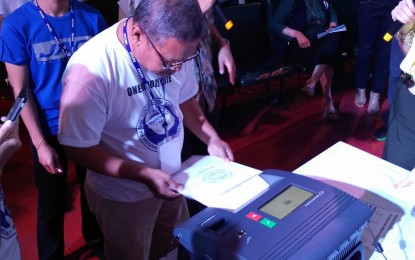 MANILA – A political analyst on Tuesday said he was surprised by the speedy transmission of results for the 2022 elections compared to previous polls but noted that it may be too early to jump to conclusions.
"Nagulat ako doon sa mabilis ang labas ng mga resulta kasi sa mga naunang mga eleksyon na automated inaabot ka ng ilang oras talaga, hanggang umaga 'yan na naglalabasan yung mga posisyon (I was surprised by the quick transmission of results because in previous automated elections it took hours, results would come out until the morning)," political analyst Ramon Casiple said in an interview over PTV-4.
The Commission on Elections (Comelec) started reporting transmissions of election results as early as around 8 p.m. on May 9. It attributed the faster transmission of results to better preparation and improvement of facilities.
Casiple said this is the reason why certain sectors could not help but raise questions because of the speedy transmissions of election results.
"Pero ganito talaga ang sitwasyon kapag unexpected yung results ay nagkakaroon ng mga diskusyon (But this is the usual situation when results are unexpected, there are discussions)," he added.
He emphasized the need to be vigilant during the reporting of election results, noting that the winning presidential candidate will govern the country in the next six years.
"Mabigat yung eleksyon e. Anim na taon yung president. Kung magkamali tayo dito, malaking gulo sa ating bansa (Elections carry so much weight because the next president will govern for six years. If we make a mistake, it will mean big trouble in the country)," he said.
He, however, said it is wise to wait until the final and official election results are released and a new president is proclaimed before making comments.
"Bantayan pa natin ang nangyayari kasi tantya ko hindi pa tapos. Nagsisimula pa lang na mawala sa shock yung mga kandidato na natalo kaya tignan natin (Let us be vigilant on what will happen because I think it's not over yet. Losing candidates are starting to lose the shock, so let's see)," he added.
Ferdinand "Bongbong" Marcos Jr. still leads the presidential race with 31,041,871 votes, followed by Vice President Leni Robredo with 14,793,286 votes.
The May 9 elections were marred by the malfunctioning of about 2,000 vote counting machines (VCMs) across the country, prompting Comelec to decide to discard them in future polls.
The VCMs, which were acquired from automated elections supplier Smartmatic Corp., have been used since the 2013 midterm polls. (PNA)
By Azer Parrocha May 10, 2022, 9:59 pm