16 December 2021, Toronto – Philippine Consul General Orontes V. Castro called on today with The Honourable Elizabeth Dowdeswell, Lieutenant Governor and Vice-Regal Representative of Queen Elizabeth II in the Province of Ontario at the latter's office at the Ontario Legislative Building in Queen's Park, Toronto. Consul General Castro was accompanied by Consular Assistant Marilyn V. Galanza.
Consul General Castro presents the Quincentennial Award to Lieutenant Governor Elizabeth Dowdeswell.
The Lieutenant Governor acknowledged the positive values and significant contributions of Filipinos in Canada and conveyed that the provincial government of Ontario looks forward to expanding bilateral relations with the Philippines. She expressed interest in strengthening further the cultural relations between Ontario and the Philippines.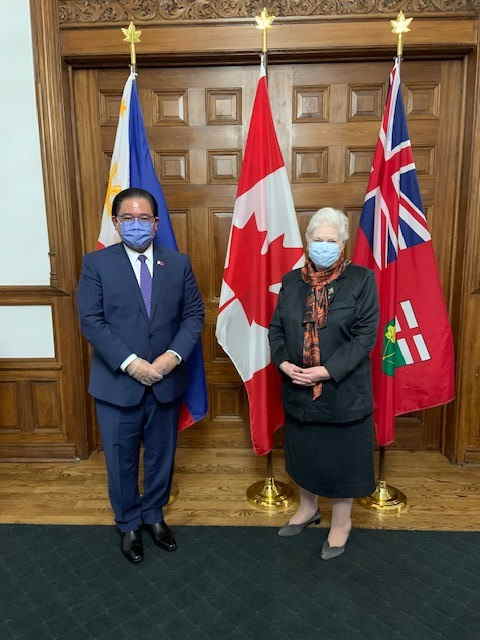 In recognition of the Lieutenant Governor's invaluable support to the Filipino community and the Philippine Consulate General, Consul General Castro presented the Lieutenant Governor with a Quincentennial Award. The award was particularly in recognition of the Lieutenant Governor's full support for the approval of the Act on "Filipino Heritage Month" celebration in Ontario. The Lieutenant Governor expressed appreciation for the award. END –