MANILA – Filipino Ernest John "EJ" Obiena is eager to bring his fellow world-class pole vaulters to the Philippines in an invitational tournament next year.
World No. 1 and 2020 Tokyo Olympics gold winner Armand Duplantis of Sweden, World No. 2 and 2020 Tokyo Olympics silver medalist Chris Nilsen of the United States, No. 4 and 2016 Rio Olympics gold medalist Thiago Braz of Brazil and Obiena will lead the star-studded event to be held at The Picnic Grove, one of Tagaytay City's famous tourist attractions.
"The objective is to bring them here after the outdoor season's over," said Obiena, who discussed his plan with Philippine Olympic Committee President Abraham "Bambol" Tolentino during their conversation last week in Tagaytay.
The pole vaulter was accompanied by girlfriend Caroline Joyeaux, a long jumper from Germany.
Tolentino, a former congressman who is now Tagaytay City mayor, described The Picnic Grove as "an ideal venue".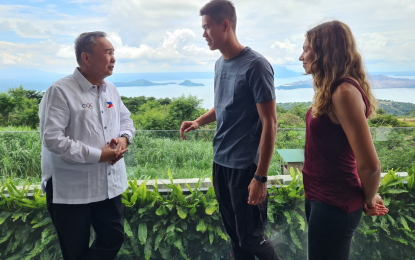 HISTORIC PLAN: Top Filipino pole vaulter EJ Obiena (center) talks to Philippine Olympic Committee President Abraham Tolentino about his plan to hold a tournament featuring his fellow world-class athletes in Tagaytay City next year. With Obiena is his girlfriend, German long jumper Caroine Joyeaux. (Contributed photo)
"With the Taal Volcano as backdrop, what more could you ask for — a world-class pole vault action in one of the most picturesque tourist attractions in the country. Every jump will be postcard-perfect," he said.
The setup of the venue, according to the world No. 3 Obiena, is the same as in Europe — a street venue where the runway, the box, crossbars and landing area are all easily moved or collapsible.
With the European outdoor season ending in early September and the Asian Games in Huangzhou, China scheduled on the same month next year, the pole vault invitational could be held in late September or early or mid-October.
Obiena said the plan is to have a spectator-friendly invitational event sanctioned by the World Athletics, the international governing body of the sport.
Tolentino noted that tourism will benefit from the staging of the pole vault invitational, saying "it's great for tourism and the Philippines will be in the international pole vaulting map. It's very doable despite next year's busy schedule. It's going to be a big event so we have to plan this carefully."
Obiena said both the Philippine Sports Commission (PSC) headed by Noli Eala and the Philippine Athletics Track and Field Association (PATAFA) under president Terry Capistrano would play key roles in the success of the tournament.
"We are hoping to work with of POC and PSC, it's a mix collaboration," said Obiena, a gold winner in the 2019 and 2022 SEA Games.
"I also love to see Hackett de los Santos to experience and compete with the best athletes," he added. Delos Santos bagged a silver medal in the Vietnam SEA Games last May.
"This is going to be historic that's why I am pushing for it. Pole vault is a standard competition so it's doable," said Obiena.
He is hoping to encourage the PSC, local government units and big business to put up more pole vaulting venues around the country. (PNA)
By Jean Malanum September 22, 2022
EJ Obiena jumps one more time, wins gold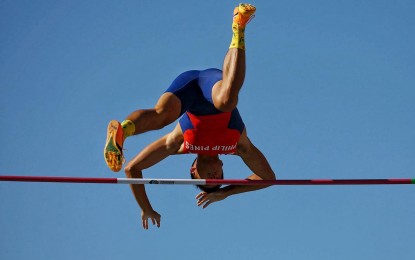 MANILA — Ernest John "EJ" Obiena made one final jump for the year and won gold in the Gala Dei Castelli athletics competition in Bellinzona, Switzerland on Tuesday (Philippine Time).
Just when many thought the world number three pole vaulter is done for 2022 with the gold in the Golden Fly Series in Liechtenstein, he showed up in Bellinzona and won it all again, beating world number two Chris Nilsen and Renaud Lavillenie for the top prize.
Obiena cleared the bar up to 5.81 meters, a new record for the event, even as Nilsen and Lavillenie could only reach 5.71.
Unlike in Liechtenstein where he tried to jump six meters, Obiena took it a bit slow in resetting the Asian record for pole vault, attempting 5.95 meters, but he fouled in all of his three attempts.
Now that his season is officially over, Obiena thanked his supporters for their help in his successes this year, highlighted by his huge win over world number one Mondo Duplantis in the Wanda Diamond League earlier this month.
"Maraming salamat po sa lahat ng sumubaybay sa aking mga laban nitong mga nakaraang linggo, lalo na po sa mga kababayang pumunta at nanood sa aking laro (Thank you to all who followed my competitions these past weeks, especially to the Filipinos who watched my games live)," Obiena said.
Nilsen won in a countback to take the silver from Lavillenie, who settled for the bronze. (PNA)